The Pearl Market
™
review or checkout
of the UK & Ireland
Shop with confidence for a cultured pearl necklace
A pearl necklace is always well received. In some countries it's the time honoured gift for anniversaries (especially 30th anniversaries) landmark birthdays and weddings. If you're buying pearls as a present, this Four Minute Video explains the 6 criteria for buying a pearl necklace.
"I must tell you how pleased we are with the pearls. They made a superb 30th birthday gift for my partner and she was truly delighted. Many thanks again for a super service and an excellent product."
David Adams, Southport, Lancs

---
certified quality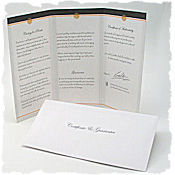 Inspected, graded, signed and stamped by a specialist pearl graduate of the GIA.
---
making our necklaces
It takes a bit longer and costs a little more but we think the end result is worth it - and so do our customers.
---
confused about pearls ?
---
Video Transcript - How To Buy A Pearl Necklace
There's lots of information on our site about the different types and qualities of pearls but if you haven't time to browse, here's a summary. There are 6 factors to consider when you are buying a pearl necklace. They are:
Pearl Shape
Pearl Size
Pearl Quality
Pearl Colour
Necklace Length
Style of Necklace
Let's start with
pearl shape
. Pearls come in a variety of forms – from perfectly round to baroque and potato. Pearl farmers strive for round pearls because they're the hardest to cultivate and so command the highest prices. Different shaped pearls can offer a lot of pearl for your money, but if you're buying pearls as a gift, and want to play safe, round or near-round pearls are your best bet. Next, we have
pearl size
. Pearls are measured across their diameter in millimetres, often given as a range, like 5-5.5mm, 6-7mm and so on. Anything less than 6mm is best kept for youngsters or ladies of slim build, whereas 6mm pearls and above are suitable for most adults. The most common size of pearl is 7-8mm whilst 8-9mm pearls are popular for wedding anniversaries, special birthdays and Christmas. Above 8mm, pearl prices start to rise sharply, reflecting the difficulty of cultivating good quality pearls of this size. For a detailed explanation of
pearl quality
, take a look at the web page headed 'Pearl Qualities and Grades'. Most reputable vendors use the A, AA, AAA grading system to describe their pearls but remember that there's no internationally accepted standard and some sellers abuse the system. TV shopping channels might call pearls 'AAAAA' quality or 'AAA+' quality. If you see this, ignore the extra 'A's or '+' signs. Pearls without fault may be labelled 'gem quality' or 'Hanadama'. Such pearls are most often made into earrings and pendants. If you're buying a necklace as a gift, it's wise to go for the best grade of pearl you can afford – even if this means choosing a slightly smaller pearl size to stay within budget.
Pearl colour
is a matter of personal preference and skin tone. The safe choice is slightly off-white or slightly creamy. Too creamy gives the impression the wearer smokes 60 a day! After white, black is popular, pink is fraught with danger, and gold or silver South Sea pearls will break the bank. The 'default'
necklace length
is 18 inches (unless you know better). Make sure your pearl supplier will let you change the necklace if you get the length wrong. Finally, the
style of necklace
. A triple-strand necklace will usually be reserved for special occasions and double-strand necklaces are favoured for formal events when the wearer gets 'dressed up'. Single-strand necklaces are completely versatile but graduated necklaces have lost popularity and are regarded as a bit old-fashioned.
In summary
, you'll maximise your chance of getting it right by choosing a single-strand, 18-inch necklace of
6mm to 7mm
or
7mm to 8mm
or
8mm to 9mm
, grade AAA, white, round pearls. The size of pearl will depend on your budget. Of course, these are all generalisations but based on 15 years' customer experience, and hopefully, this video has given you an idea of what to look for.
Video Transcript - Making Our Necklaces
We're sometimes asked why we don't have our necklaces and bracelets made overseas – in the countries we buy our pearls from. Wouldn't it be cheaper and easier? Well, yes it would, but apart from adding value, rather than just being a middleman, there are good practical reasons for doing the work here rather than abroad and the most important one is control over quality. We're very aware that many customers are buying pearls for their partners – perhaps for a wedding, a birthday, Christmas, or an important anniversary. They really don't want to be worrying about the quality of their gift. So let's have a look at how our necklaces are made…
Pearls are bought in 16 inch strands like these. In theory, by the time you've knotted between each pearl and added a clasp, a 16-inch strand will make an 18-inch necklace – but it never works out like that. No matter how good your supplier or how long you've dealt with them, you always find a few duff pearls on a strand. The first task then, is to re-string the pearls on another temporary strand, inspecting and rejecting those that are below grade. Typically, we put aside 10% - 15% of the pearls on any strand. On a necklace with 7 to 8 millimetre size pearls that's up to 8 pearls that don't make the cut. Of course, we couldn't do this if we were buying in 'already-made' necklaces. The new temporary strand is now ready to be made into a proper necklace. It's not rocket science – all that's needed are the pearls, a gold or silver clasp, silk thread, necklet ends and a knotting tool – but it does require care and concentration. You don't want to get to the end of a long necklace then make a mistake – the whole thing will have to be cut up and restarted.

The finished item is placed on a neck stand to make sure it hangs correctly – it's not lumpy or unbalanced - then examined by an experienced pearl graduate of the London branch of the Gemological Institute of America who signs and stamps the certificate of authenticity with the appropriate grade. Finally, the necklace is placed in a good quality wood or leatherette jewellery case – none of your cardboard rubbish – and finished off by including the certificate, the guarantee, a pearl care kit, and a soft pouch. It's rare for anything to go wrong with a necklace or bracelet but occasionally one will get broken and a pearl or two be lost or damaged. If this happens we can restring the item and replace any missing pearls – that's another advantage or making them ourselves.
To save this page for later, press Ctrl D on your keyboard
The Pearl Market Limited, Drefach Felindre, Llandysul, Carmarthenshire SA44 5YW
The Pearl Market ™ is a trademark of The Pearl Market Limited © 2002-2018