review or checkout
The Pearl Market
™
of the UK & Ireland
For the best experience, turn your mobile sideways and ensure autorotate setting is on.
Pearl Cleaning, Restringing and Repair
By tradition, good quality pearl necklaces and bracelets are strung on silk thread. Silk is a lovely material but it's not steel wire and you can't moor boats with it. Over time it'll get grubby and stretch, opening up gaps between the pearls.

We provide a cleaning, restringing and repair service to keep your pearls in good condition and your necklace or bracelet looking like new.
What you get...
First - we cut up the necklace or bracelet and string the pearls on a temporary strand. The strand is soaked in warm water to loosen and dissolve cosmetic residue. Then it's rinsed, wiped over with a clean soft cloth and left to dry.

If they need it, clasps and fittings are dipped in gold or silver jewellery cleaner to remove tarnish.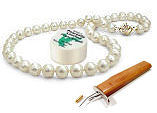 The necklace or bracelet is strung on double or quadruple strands of silk thread and knotted as it was when new. If possible and at our discretion, we'll replace damaged or missing pearls (not too many) with the closest possible match.

Your pearls are returned to you by Royal Mail special delivery. A pearl care kit is included to help keep your pearls in good condition until the next time. Materials and work are guaranteed for 6 months.
What it costs to keep your pearls in good nick
Necklaces: £1.95 per inch (total length including clasp) plus £7.50 postage.
Bracelets: £2.45 per inch (total length including clasp) plus £7.50 postage.
What to do now...
Print and complete this form
(opens in a new window) and send it to us with your item(s) and your payment.
Before you do please note:
We don't do restringing or repairs in December
In payment we can only take cheques or cash (not cards)
broken stud earring?
Don't panic. Fix it with this
simple home repair
To save this page for later, press Ctrl D on your keyboard
The Pearl Market Limited, Drefach Felindre, Llandysul, Carmarthenshire SA44 5YW
The Pearl Market ™ is a trademark of The Pearl Market Limited © 2002-2020